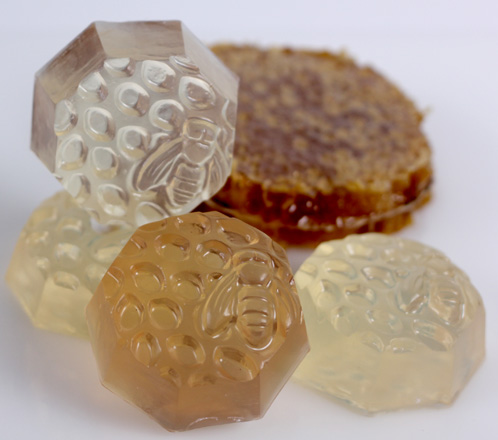 What You'll Need
2 pounds of Honey Melt and Pour Soap Base
1 oz Oatmeal Milk and Honey Fragrance Oil
1 oz Vanilla Select Fragrance Oil
ONE: Slice 1 pound of Honey Melt and Pour Soap Base into small pieces. Put the soap in a heat-safe container and microwave in 30 second bursts until it's fully melted. Make sure to use short bursts in the microwave and stir frequently so the soap doesn't burn.
TWO: Add .5 ounce of fragrance oil and mix to fully incorporate. We chose equal parts of Oatmeal Milk and Honey Fragrance Oil and Vanilla Select Fragrance Oil for the darker hued soap. The fragrance oils discolor to a beautiful brown. Read more about fragrance discoloration here.
THREE:  Pour the melted soap into each cavity of your mold. Spray the soap with rubbing alcohol to pop any air bubbles. Let the soap cool for about 4-6 hours and then unmold.
FOUR: Repeat the steps to make another batch of four soaps.
Bonus: You can lightly scent the soap or leave it unscented for a different shade.