What You'll Need:
12 Cavity Rectangle Silicone Mold
41 oz. Goat Milk Melt and Pour Base
12 oz. Clear Melt and Pour Soap Base
Perfect Orange Color Block
Shimmer Cappuccino Color Block
1 oz. Pumpkin Pie Candle & Soap Fragrance Oil
1 oz. Vanilla Color Stabilizer
3 Tbs. Ground Pumpkin Seeds
99% Isopropyl Alcohol
Optional: Dash of ground cinnamon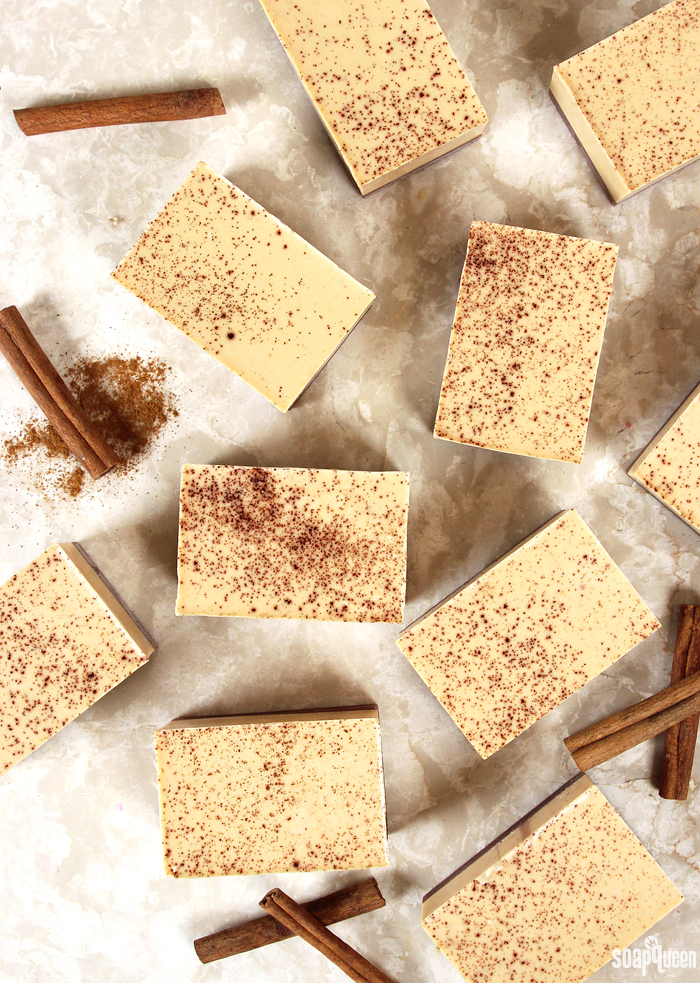 ONE: Chop and melt 12 oz. of the Clear Melt and Pour Base, and 1 oz. of the Goat Milk Melt and Pour Base in the microwave using 20 second bursts. A combination of bases is used to give a rich brown color, while still being slightly opaque. Once melted, add shavings of the Shimmer Cappuccino Color Block and stir until they have melted and the soap is a rich brown color. If necessary, place the soap back into the microwave using 10 second bursts to reheat.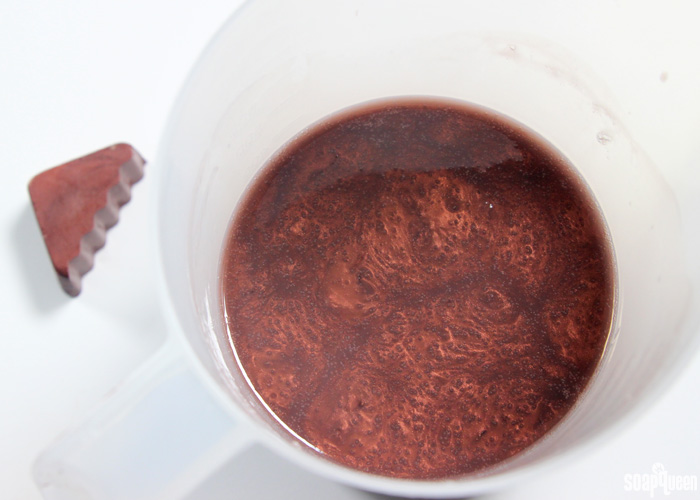 TWO: Pour the brown soap evenly into all 12 cavities of the mold. Each cavity will receive about 1 oz. of soap. If it helps, weigh the first pour and eyeball the rest. After pouring, spray each cavity with rubbing alcohol to disperse any bubbles. Set aside to cool and harden.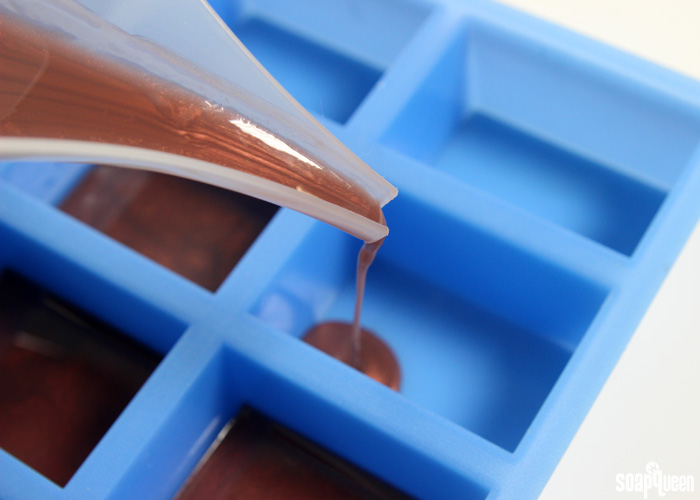 THREE: Chop and melt 40 oz. of Goat Milk Melt and Pour Base in the microwave using 30 second bursts. Once completely melted, add shavings of the Perfect Orange Color Block until you have reached a soft orange color. Keep in mind that because the base is white, the soap will never be bright orange. If you prefer a brighter orange color, you may consider using clear soap for this step.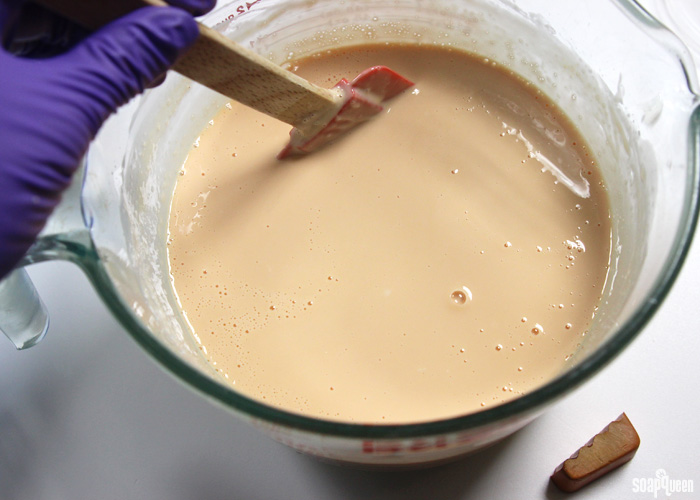 FOUR: Add 1 oz. of the Pumpkin Pie Candle and Soap Fragrance Oil and stir to combine. Then, 1 oz. of the Vanilla Color Stabilizer into the soap and stir to thoroughly combine. The Vanilla Color Stabilizer is used to prevent the Pumpkin Pie Candle and Soap Fragrance Oil from discoloring the soap. Learn more about vanilla color discoloration in this blog post.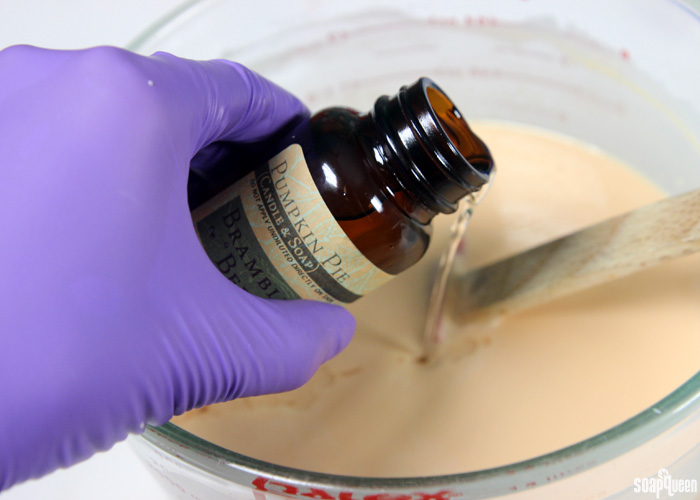 FIVE: Add three heaping tablespoons of ground pumpkin seeds and stir to combine and get rid of any large chunks. Then, add a few dashes of ground cinnamon. A little goes a long way; you want just enough so that you see a few speckles in the soap. If your skin is sensitive to cinnamon, feel free to leave this step out.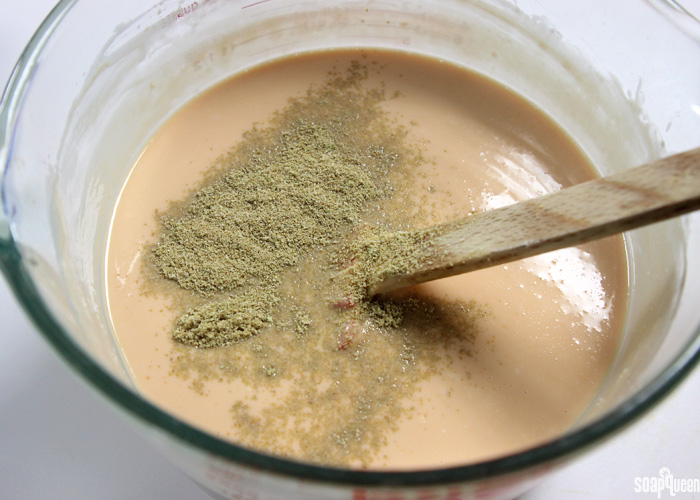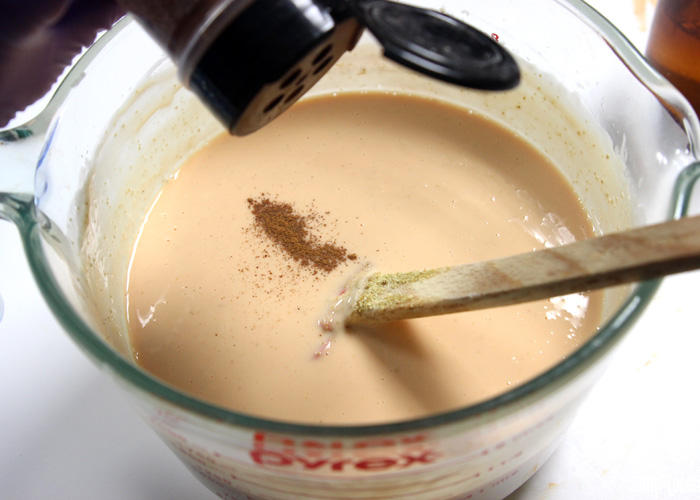 SIX: Check the temperature of the orange soap. You want to make sure it is no hotter than 125 ° F. If it is too hot, the ground pumpkin seeds will not suspend and the soap may melt the dark brown layer below. Check to make sure the brown soap has cooled and developed a thick skin in order to support the orange soap. Spritz the brown layers with rubbing alcohol to help the orange soap stick, and gently pour the orange soap into each cavity.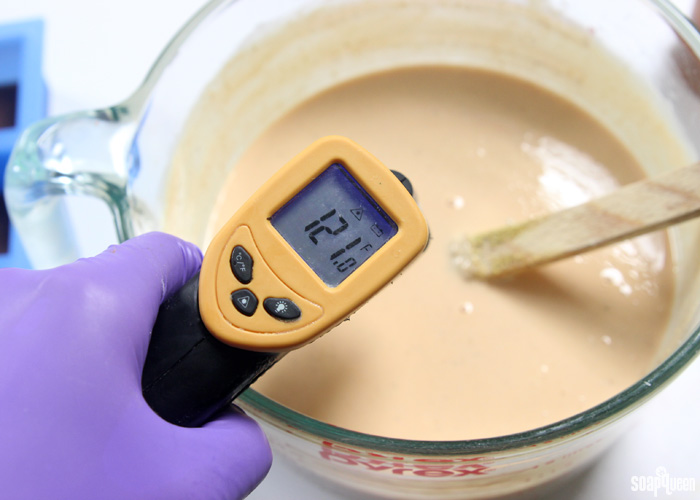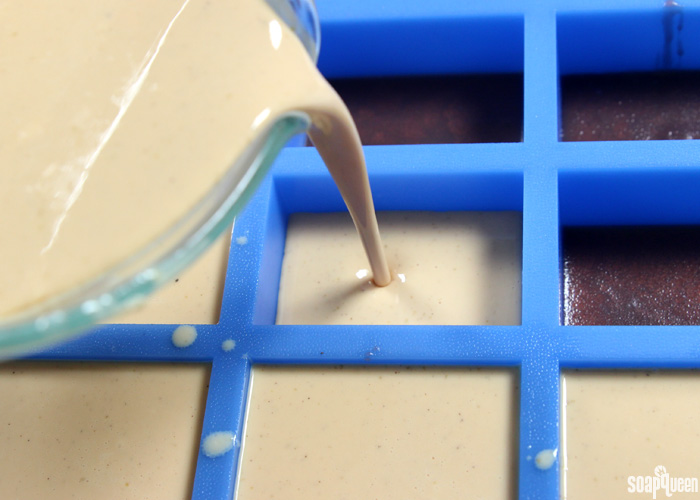 SEVEN: Immediately sprinkle the top of the soap with a fine dust of ground cinnamon. Allow to fully cool and harden, and enjoy! To avoid glycerin dew, wrap them immediately in plastic wrap, or another airtight packaging option.